Independence Day is one of my favorite holidays. I love America and I'm thankful to live in a great land of freedom and opportunity.

We celebrated this year by running a 5K in the Freedom Run in Provo. Well, I should say I ran, along with Greg, Leslie, Kinzie, the Alexander family, and Rex and Case in the stroller. It was a blast for me, but since Adam and the kids had to be up by 5:00 a.m., they didn't find it quite as enjoyable.



We headed to Alpine after the run to get ready for the Neider reunion. It was a fun-filled day with cousins and delicious food and lots of preparation for the highlight of the day: Rob's fireworks spectacular. Adam and Rob set everything up and I made a music mix to go along with it. Karli spent her time being cute and modeling her darling ensemble that we whipped up the night before.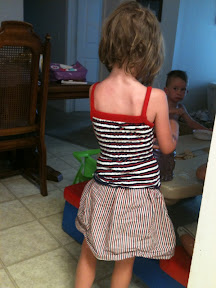 The fireworks were definitely the best part of the day. Aerial fireworks really make a show spectacular and the kids were enthralled.
That's Rex peeking out from his hood, enjoying his tasty fingers.
God bless America, land that I love!